Looking for the perfect Goat Gift for that special Goat Lover

It's that time of year again folks! The Holidays are fast approaching, time for thinking about sending out Christmas cards and buying Holiday gifts for those near and dear to you. (And bookmarking those cool goat gift places to give to your Hubby, Wife, kids & friends so they can get you some cool goat gifts too!)

We offer a variety of cool goat gift shops for you to shop:

GetYerGoat

(Our most prominent Goat Gift shop with over 1800 products about goats from which to choose! Featuring Goat Greeting Cards and GoatNote™ Goat cards for Christmas, Hanukkah and all occasion, Goat t-shirts, Goat hoodies, Goat Calendars, Goat Totes, Goat Yard Signs, Goat Bumperstickers, Goat Gift tags for Christmas, Goat Ornaments, Goat Jewlery Boxes)

TotallyGoatally
(A selection of goat gift items I have found)
offering Goat Books for Children, Goat Plushies (stuffed animals and finger puppets), 14K and SS Goat charms, 3D Goat magnets, 3D Goat Keychains, Goat Figurines, and more.

AngelGoats Gallery at ImageKind
(My own artwork offered in high quality giclee prints for wall art and suitable for framing-framed prints available as well)

GetYerGoat at FunTees

(Tons of cool Goat Gifts: Goat Watches, Goat Earrings, Goat Belt Buckles, Goat Wallets, Goat Keychains, Goat Golf Divots, Goat Dog Tags, Goat Flash Drives, Goat Puzzles, Goat Lighters and cigarette cases, Goat Money Clips, Goat Car Window Signs, Goat Letter Openers and much more.)
((This is a new shop for me and I am adding new items as quickly as I can- Currently I have: )) Alpine Goat Store | Angora Goat Store | Boer Goat Store | LaMancha Goat Store | Nubian Goat Store| Oberhasli Goat Store | Pygmy Goat Store | Pygora Goat Store | Saanen Goat Store | Toggenburg Goat Store

GetYerGoat at Zazzle

(We like the variety of Colors and Mugs here, so we offer Goat Mugs, A different selection of Goat T-shirts for men women and kids; including infants. The cool thing about this shop is that you can automatically personalize the Goat Gifts with names etc and if I do not have the design offered on the T-shirt you want you can add it to what ever color, style and size before ordering! I also Love the Huge variety of Tote bags here, 6 choices)
(This is also a new shop for me so again I am adding Goat Designs as often as I can )

Goat-to-It
(My favorite thing at this shop is the Glass Goat Cutting Boards in 2 sizes!
Product Description: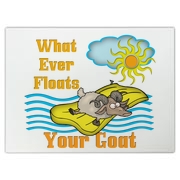 Spice up the kitchen with our ultra-premium large glass cutting board. Can also be used as a hot plate, serving tray, cheese board, bread board, or place mat. The photo-quality printing is permanently embedded into the back of the tempered glass. Non-skid feet protect the counter and keep the cutting board firmly in place. Makes an excellent gift that will be cherished for years to come.
I also like the variety of colors and styles of goat t-shirts both short and long sleeved- The children's section has more items to select from as well, I also like the Apron style here)

Why do we have so many gift shops and sometimes with the same designs?
Because each company we work with has different gift items to offer you. Each shop has it's own shopping cart , payment options and check outs - They ALL have a 10% satisfaction money back guarantee, in case something isn't quite right or doesn't fit

My objective is to bring you as many choices in your goat gift giving as I can, so if it means opening up multiple Goat Gift shops, then so be it! My artwork, Your gifts.
If for some reason you see a design at one shop you do not see at another and would like to have it offered there- Email me and I will add it to that shop.

Merry Christmas, Happy Holidays and Happy Hanukkah!
goatlady,
Bringing you as many Goat Lovers Gifts and Christmas Gifts for goat lovers, as I possibly can!