This last week has been especially sad for some of my friends and their goats- Personally I lost one of my favorites on Thanksgiving eve. My Bubba was 13 yrs old and his loss leaves an emptiness in my heart that is difficult to describe.
Bubba's classic handsomeness is the focus of many of my
goat T-shirts,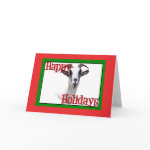 goat greeting cards, and other goat gifts.
He is also the handsome goat in my Cafepress GetYerGoat Shop Logo. He has often been the butt of many jokes, and was the neighborhood mascot, everyone who visited my farm met Bubba and all thought he was a handsome boy. He was sweet and talked to me every day- he was a fence jumper and was constantly getting my attention outside to put him back in the goatyard. I miss sweet Bubba and all of his antics, he will always have a special place in my heart.

My dear friend Judy in Alaska has been battling an untreatable ailment with one of her favorites, her absolute favorite, Jeep, and has made the extremely difficult decision to have him euthanized today- My heart love and prayers go out to her and her sweet Jeep.

And yet another blogger friend the Purple Goat Lady, She lost her favorite mama goat and her last born babies .. my love and hugs to her as well.

Non goat owners sometimes wonder how we can get so attached to our goats- they become pets and family just like a beloved dog cat or in some cases children. :) Losing beloved goats is a pet loss that is as hard on the emotions as anyone else we lose.