Columbus Day Sale at My Zazzle Gallery
14.92% off all orders! This weekend only! Use code: COLUMBUS2008

My GetYerGoat™ Zazzle Gallery is unique in the sense that you can add text to the designs , and if you see one shirt or item and want a different style you can apply the style you want in the color you want at time of order. I do have a few items in particular to personalize, such as Feed bucket with My Name on it and a place on the bucket to put your name as well as My Bliss is My Goats and a place for your herd name or farm name. The greeting cards are blank inside and you a can add any text inside you want - SO shop and Save this weekend at my Zazzle GetYerGoat Goat Gift Gallery!

Goat Feed Bucket Shirt
by

getyergoat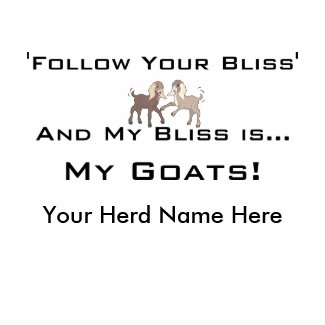 Goats on T-shirts Personalize
by

getyergoat
Make
personalized t-shirts
On
zazzle.com
See more
Animals Pets T-Shirts
Have a Great Weekend!
goatlady
GetYerGoat™ Goat T-shirts and Goat Gifts
GetYerGoat at Cafepress
TotallyGoatally Gift Shop
Goat-Link.com